---
TENT RENTAL PRICE QUOTE
Please review our tent sizes/layouts and then complete this form for a free price quote on your special event:
---
Pole Tents
Pole tents are most commonly installed in grassy areas, though they can be installed on asphalt. The hallmark feature of a pole tent is at least one central pole that serves as the structure's primary support (larger structures may have several). You can adorn center poles with warm white string lights, cover them in flowers, or find other creative ways to incorporate the poles into the theme of your event.
Pole tents use a simple tension method, with outward pressure pulling the tent poles into standing position, to stay standing. Ropes are staked into the ground to anchor the poles in place. Center poles are set up in the middle areas of the tent, raising the canopy so it's taut.
Chose pole tents when you want:
Quick & Easy Setup on Grass or Asphalt
Larger Sizes
The Canopy Look
Standard vs High Peak Pole Tents
High Peak Pole Tents have an elevated center peak, giving them a raised ceiling and making them more aesthetically pleasing. They are perfect for more upscale events such as weddings, graduation parties, corporate events, and other upper-tier functions.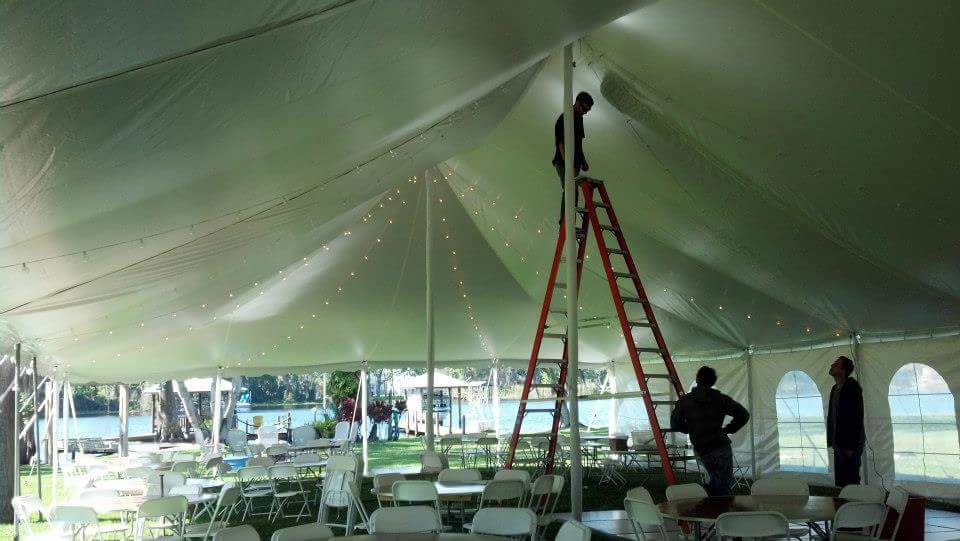 ---
---
---
Frame Tents
The primary difference between pole tents and frame tents is that, while a pole tent is staked into the ground, a frame tent is not. Frame tents maximize the amount of interior space you can use, and because they do not depend on the surface beneath them for support, they are ideal for long-term use. Frame tents also allow for a completely custom floor. Maybe you're throwing a wedding reception and you need a mobile dance floor in the center, or perhaps you would like to furnish the space with a beautiful faux-wood design. Whatever you'd like to do, frame tents provide you with unobstructed space in which you can bring your event to life.
The advantages of frame tents include:
More Usable Square Footage - No center poles to work around
Long Term Use - Tent frame supports tent top
Multi-Surface Use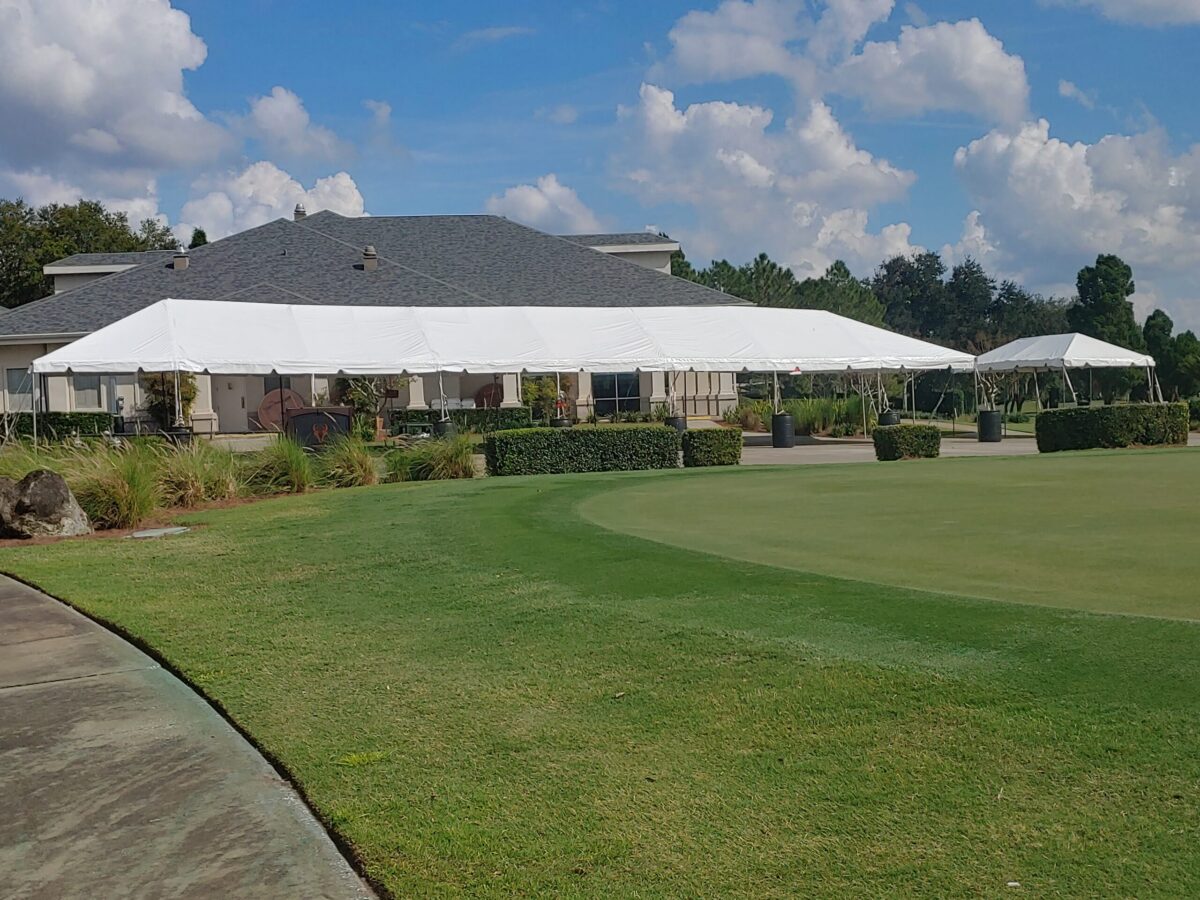 Layout #1


40' x 100' tent rental - (seating for 304 people)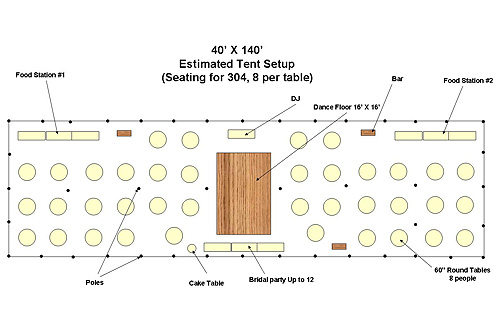 ---
Layout #2


40' x 120' tent rental - (seating for 200 people)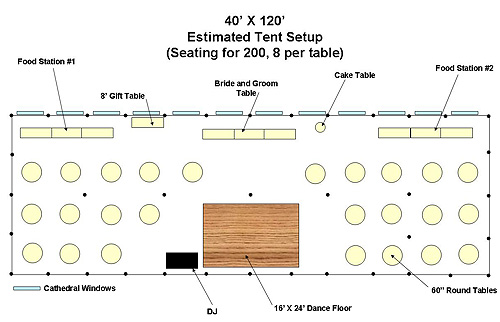 ---
Layout #3


40' x 80' tent rental - (seating for 160 people)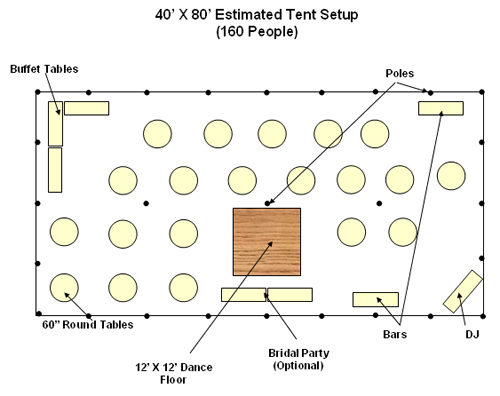 ---
Layout #4


40' x 100' tent rental - (seating for 152 people)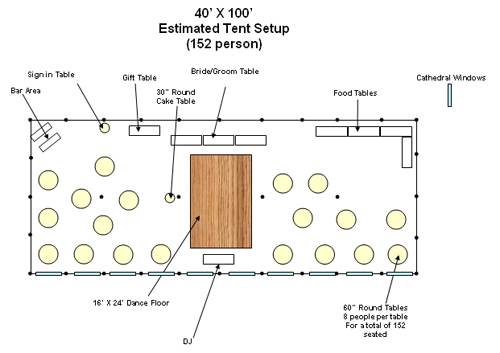 ---
Layout #5


40' x 100' tent rental - (seating for 152 people)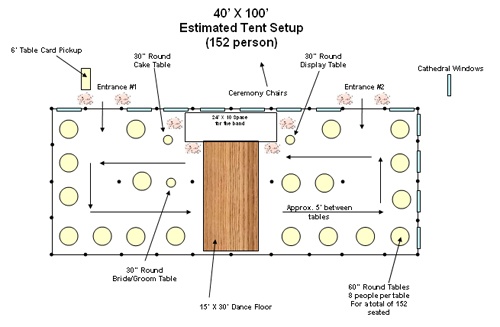 ---
Layout #6


40' x 60' tent rental - (seating for 152 people)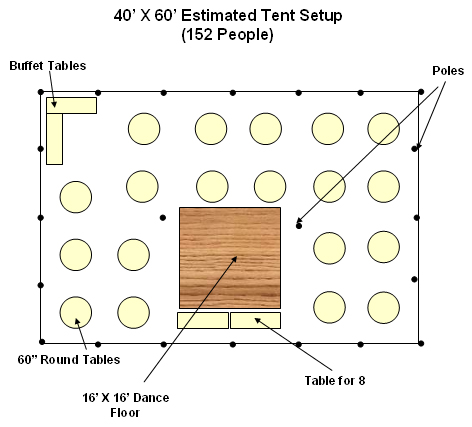 ---
Layout #7


40' x 60' tent rental - (seating for 152 people)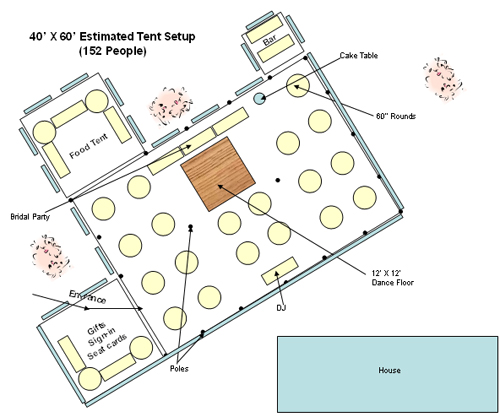 ---
Layout #8


40' x 100' tent rental - (seating for 150 people)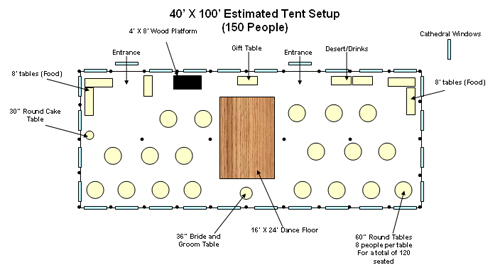 ---
Layout #9


40' x 100' tent rental - (seating for 136 people)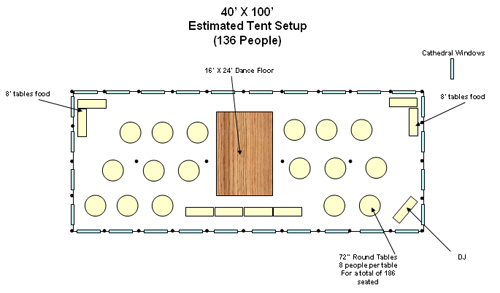 ---
Layout #10


40' x 100' tent rental - (seating for 120 people)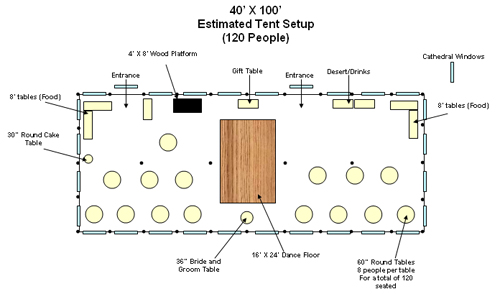 ---
Layout #11


40' x 80' tent rental - (seating for 120 people)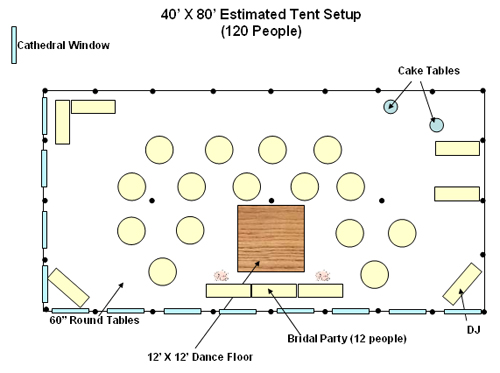 ---
Layout #12


40' x 40' tent rental - (seating for 96 people)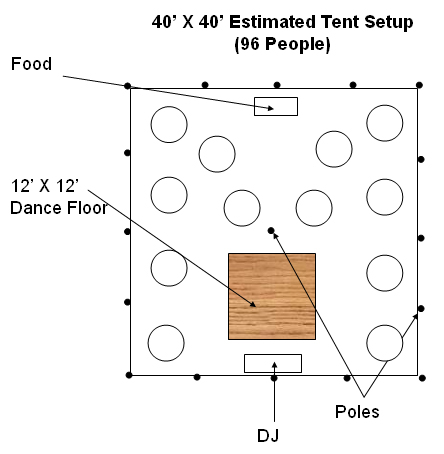 ---
Layout #13


40' x 40' tent rental - (seating for 80 people)