---
If you're planning an outdoor event that requites daily, weekly or monthly rental, Tents and Stuff, Inc. in has solutions available to help ensure the success of your outdoor event. With a variety of quality tents available to rent, as well as a selection of tent layouts to choose from, Tents and Stuff can help make your outdoor event a more comfortable, stylish and successful.
Commercial events we have serviced:
Festival
Concerts
Fireworks lots
Christmas lots
Flowers
Pumpkins
Auctions
Auto sales
Church events
Get a quote today by completing the form on the right or by calling or texting us at (813) 967-1501 to find out how we can help you plan the perfect event for both you and your guests.
"Product and service of excellent quality! I have been renting for the past 2 years and product are always clean and sturdy. Reasonably priced as well. The service to pick up, deliver or drop off has been very convenient. Highly recommended."
Tents and Stuff of Lithia, FL has many styles of tents and a wide variety of party supplies to choose from.
Not only does Tents and Stuff have a variety of tent rentals to choose from, but we also rent tables, chairs, linens, fans, lighting and many other supplies you may need. Other popular party supplies include wood dance floors, café lighting, fans, heaters and more. Tents and Stuff can provide solutions to the challenges of any outdoor event!
Our expert staff at Tents and Stuff is also available to help with your commercial event planning and tent layout. With over 40 years combined experience in the industry, we have the expertise to help you realize your vision for your commercial event.
---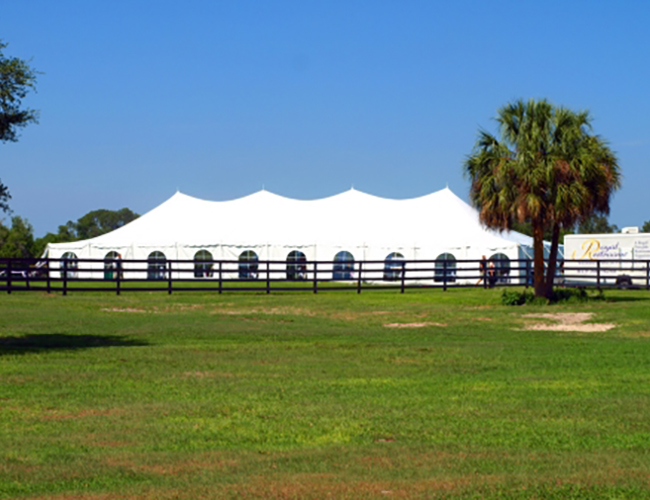 Pricing on Packaged Deals
---
---
Tent Rentals and Other Party Rentals Include:

While not every event is ideal for the great outdoors, many are, especially in the corporate world. Holding your corporate event outside can be a welcome change from stuffy boardrooms and overcrowded conference halls.

Here are a few events that work really well in an outdoor setting:

• Team building events

• Sales events

• Sales training events

• Product kick-off events

• Company picnic

• Vendor events

• Customer appreciation events

• Corporate charity events

• Corporate golf events

• Holiday events

• Employee recognition and award events

• Anniversary and company milestone events.
---
Outdoor Corporate Events that are Perfect for Tent Rentals:
Frame Tents

High Peak Pole Tents

Standard Pole Tents

Tent Sides – Solid, Cathedral Window, White & Mesh, and Pole Covers

Tables – 30″, 36″, 48″, 60″, 8", 6" (Round and Rectangular)

Samsonite® Chairs (White and Black)

White Wood Garden Chair (White)

China (White/Silver and Ivory/Gold)

Pedestal and Floor Fans

Globe Lighting

Spot Lighting

Glassware

Cutlery

Dry Portable Bar

Coffee Makers

Linens

Tent Heat/Air Columns